Optimization Services Repository (OSRepository.xsd)
Click to see or download the OSRepository XML Schema -> OSRepository.xsd [near stable]
Click here to go the OS Repository and dowload repository instances.
---
OSRepository.xsd is a specification of the organization of the Optimization Services repository that keeps all the benchmark or example optimization instances.
Basically OSRepository starts with a simple description and some recent news about OSRepository (e.g. recently added optimization instances); then what follows is the main body of the OS Repository: a squence of instances, or more exactly some meta-information about the instances. Each instance contains information such as the name, the source, description, originalFileName, osDirectoty, and osFileName. Most OS instances in the OS repository are converted from some existing instances, therefore we have the originalFileName and osFileName. Each instance is saved in a specific directory (osDirectory). The directory structure is generally categorized according to the optimization types. For example:
linear/continuous
linear/mixedInteger
nonlinear/continuous
nonlinear/mixedInteger
stochasticLinear/continuous
stochasticLinear/mixedInteger
stochasticNonlinear/continuous
stochasticNonLinear/mixedInteger
The following figure illustrates the general OSRepository Schema.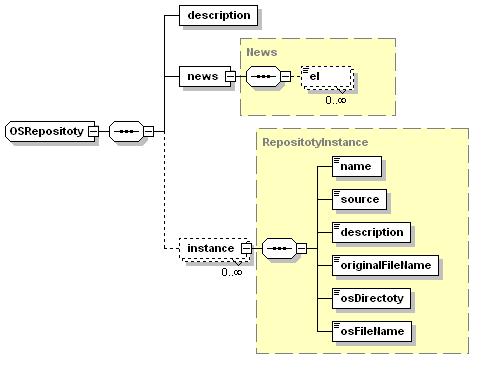 ---
Links:
Click to see or download the OSRepository XML Schema -> OSRepository.xsd
Click here to go the OS Repository and dowload repository instances.